Dito Telecommunity Data Promos & Internet Offer 2023
|
Dito Telecommunity, the newest major player in the Philippine telecommunications industry, has recently launched a new data promo that is sure to excite internet users across the country. With competitive pricing and generous data allowances, the Dito Telecommunity Data Promo offers a promising internet experience for those looking for reliable and affordable connectivity. In this article, we will take a closer look at the details of the Dito Telecommunity Data Promo, and explore what it means for internet users in the Philippines.
Dito Promos
Dito Level Up Promos
| Data | Price | Validity |
| --- | --- | --- |
| 8 GB Includes Bonus 1 GB | P 99 | 30 Days |
| 18 GB Includes Bonus 2 GB | P199 | 30 Days |
| 31 GB Includes Bonus 3 GB | P 299 | 30 Days |
| 60 GB Includes Bonus 5 GB | P 499 | 30 Days |
| 130 GB Includes Bonus 10 GB | P 999 | 30 Days |
Included In All Plan:
Unli DITO to DITO Calls; 300 mins calls to other mobile networks
Unli text to all mobile networks
Dito Data Sachet
Promo comes with Data inclusion only:
a. DATA 10 – 1GB valid for 1-day
b. DATA 20 – 2GB valid for 3 days
c. DATA 50 – 5GB valid for 7 days
DITO Data Sachet will not roll over and will expire after the validity period. DITO Data Sachet cannot be shared with any DITO number.
Promo is available via DITO APP to DITO Prepaid subscribers who opted-in to marketing offers depending on the segmentation/profiling study. Promo is also available via DITO Experience Stores and Partner Stores starting on June 12, 2022.
Usage hierarchy:
a. DITO Data Sachet Promos can be used together with promos/data on different wallets.
b. DITO Data Sachet promos will not stack and will expire at the end of the validity period.
c. DITO Data Sachet promos can be purchased and used independently and together with other wallets.
d. Customers can purchase multiple DITO Data Sachet.
e. If the subscriber has promos in different wallets, the promo with the shortest validity will be consumed first.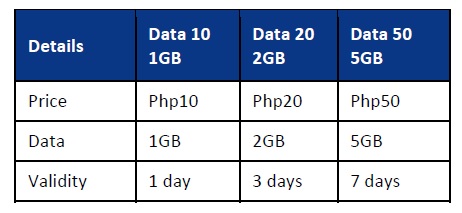 Dito Starter Pack
How to avail of 22GB
 Inclusions
Bonus Data 
Validity 
Step 1: Activate the DITO Starter Pack.
 
3GB Data 
Valid for 15 Days 
3GB 5G Data 
Valid for 15 Days
Step 2: Download the DITO APP and update the customer profile.
4GB Data App Download and Sign in (2GB)Update Profile (2GB)
Valid for 7 Days 
Step 3: Purchase or subscribe to a Level-Up Pack
First Level-Up Pack subscription on the same day of SIM activation(3GB)First 12 Level-Up Pack subscriptions (up to 12GB)
Valid for 7 Days 
Total Data 
22GB 
 
| | |
| --- | --- |
| Bonus Inclusion |  Validity |
| Prime Video mobile subscription voucher  | 30-day voucher on us when customers subscribe to any Level Up Pack, Advance Pay and Auto Pay. |
The promo is available to all DITO subscribers who will activate their DITO Starter Pack from March 1, 2022, to June 30, 2023.
3GB 5G Bonus Data can only be consumed by subscribers using the SIM in a compatible 5G phone and in DITO 5G covered areas: NCR, Cebu City, and Mandaue City
1GB Bonus Data is available to subscribers that availed of any DITO Level-Up Packs. Bonus data can be availed up to its 12th promo subscription. 
3GB Bonus Data will be credited to subscribers that availed of any DITO Level-Up Packs from the day of SIM activation.
4GB Bonus Data is available to all subscribers who downloaded, signed in, and updated his/her profile in DITO App for the first time. Download and install the DITO App via the link included in the SMS activation. An activation SMS will be sent to the subscriber after activation of the sim card.  
Prime Video mobile subscription voucher is available to new and existing subscribers that will purchase any DITO Level-Up Packs from any available channels.
If you face internet connectivity issues after purchasing the Dito Data Promos, it is recommended to verify the Dito Apn Settings on your device.
Hope this article helped you to find the best Dito Data Promos & Internet Offer for you. Let me know which one you prefer more in the comment box.